Chuchotage, or the divine symbiosis
The Chuchotage is a short film by Barnabás Tóth with Andrea Osvárt in the lead role, in the making of which APPLiA played a significant role in 2018.
Fanni Mészáros, company manager, recalls how the relationship between APPLiA and Chuchotage started …
One beautiful autumn day I was sitting in the APPLiA Hungary office, reading the incoming emails. Suddenly, among the many official and professional letters, a little different one arrived from an unknown sender. A certain film director called Barnabás Tóth wrote to me personally. With curiosity, I opened the letter, in which Barna enclosed a draft script for a short film along with his introduction. As I am used to, my brain started to spin, my thoughts raced. I liked the script and Barna's idea of asking APPLiA Hungary for professional help so much that a few days later we were already sitting in a café brainstorming together about the possibilities. I told him that I believed that this whole story was so good that I would try to get APPLiA Europe involved, rather than APPLiA Hungary, and even persuade Paolo, our Director-General, to act in the film himself. Barna asked me if I would like to appear in it. To which I replied – jokingly – that when he would walk down the red carpet with Paolo to receive the Oscar trophy representing the stars, I might regret it, but I felt that I would not, it would be much better for the film if Paolo and APPLiA Europe were in it. So this is what we are left with, and I started to prepare in my head how I could "sell" a romantic comedy (which, moreover, was then still planned to bear the title Flirt) to a huge European, strictly professional organization.
Finally, I sent a rather long email to Paolo, re-worded, re-read, re-worded again at least ten times in three days, and I was excited to get a feedback. Paolo reacted quickly and indicated that he really liked the idea, but that I should present it to colleagues in the framework of a presentation by video conference. Great, I thought, so I should make a formal presentation on the energy-label workshop about starring in a romantic film called Flirt to an international audience of household appliance professionals. Hmm…
Finally, I decided that once I started, there was no turning back, I gave it all I got, sprinkled the presentation with hearts, Oscar statuettes, pictures of Andrea Osvárt ( since she was the main character of the film), Paolo's photos, and, of course, professional arguments as to why it would be good for APPLiA. I felt so much the whole time that this was a great idea, a great opportunity, and it just couldn't not happen! It must happen! And it actually happened! Finally, APPLiA Europe supported the making of the film both professionally and financially. We broadened the topic of the energy label to the entire circular economy, and my colleague Korrina starred in the film alongside Paolo. The film, which ultimately went on to win numerous national and international awards and was shortlisted in the top ten for Oscar nominations. This became the short film Chuchotage… by director Barnabás Tóth. Like Barna said later, "…a divine symbiosis actually happened". 😊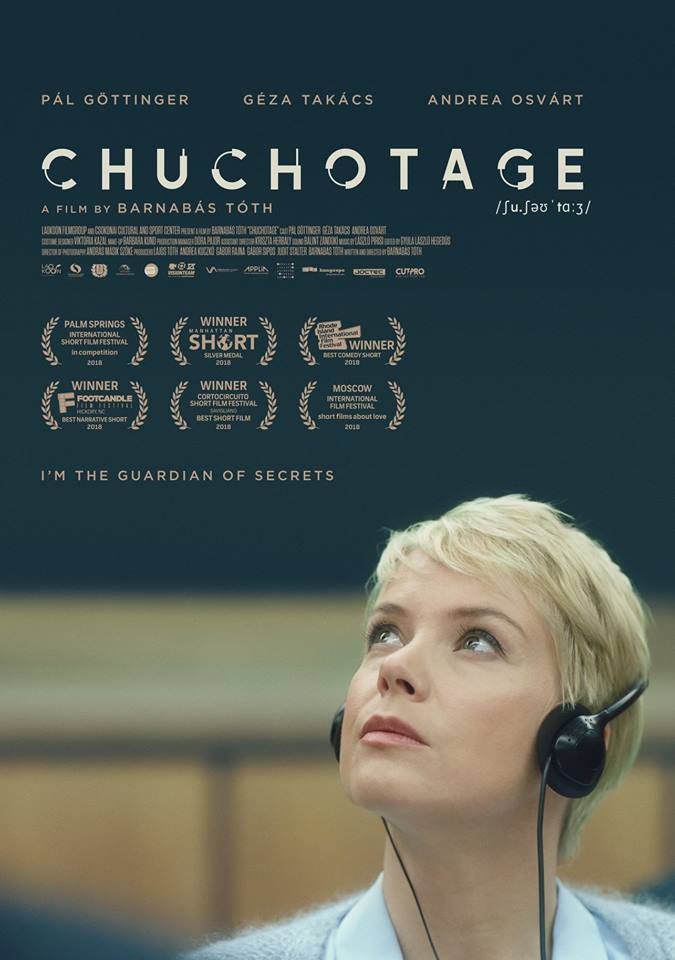 Major recognitions and awards
Short-listed for the Oscar in the category of Best Live Action Short Film
Rhode Island International Film Festival – best short comedy film
Manhattan Short Film Festival – "Silver Medal" for the best film
Kinofilm Manchester International Short Film Festival – best short film comedy
Innsbruck Nature Film Festival – best film
Hickory's Footcandle Film Festival – best short film
High Wycombe's Fisheye Film Festival – best short film, actor, screenplay
Targu-Mures AlterNative – Main Prize
St Petersburg Russian Indie Film Festival – best actor – Pál Göttinger
Seven Hills Film Festival – best short feature film